About Ms. Pelletier
I attended St.Mary's Grade School, Fond du Lac, then graduated from Goodrich High School. I graduated from UW-Platteville with a Bachelors of Science Degree in General Music Education, K-12. Taught Music K-6 in Anchorage, Alaska for five years. Taught Music K-8 at St. Joseph's , FdL, and Presentation, NFdL, for one year. Played piano/sang professionally and taught lessons in San Diego, CA for eight years. Besides teaching Music 5K-8 here at SOTH since 2002, I am currently a foreign language and music substitute teacher at FdL High School, a wedding music planner/musician, and Music Minister/Director at Sons of Zebedee Parish (St. James, Oakfield and St. John, Byron) since 2001.

In my free time, I sing with the Fond du Lac Women's Chorus and spend time with my niece, nephew, family, special friend, Tom, and two cats.
---
About Music Class
Students in grades 4K-3rd have music class twice a week (a total of 75 minutes). During class time they play elementary percussion instruments, such as rhythm sticks, hand drums, guiros, triangles and tambourines. In addition they perform an annual Christmas and Spring concert. The students also sing during the Veteran's Day prayer service and Grandparent's Day.
Students in grades 4th-8th have music class once a week (50 minutes). During class they learn and sing music performed at Mass, study general music theory and facts about music history. In addition they participate in caroling at Christmas time in the community and at local nursing homes.
Powered by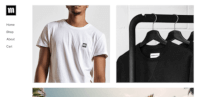 Create your own unique website with customizable templates.